**Bring Your Cleaning Experience!**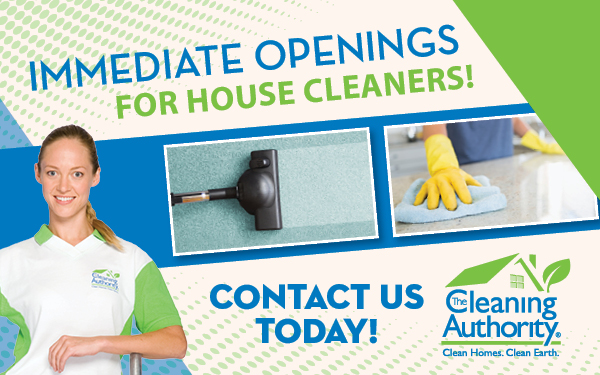 Are you awesome? If so, we're looking for people like you!

Come work for the fastest growing and best housecleaning business in Rutherford County. We are The Cleaning Authority. We treat our employees right and empower them to treat our customers great. We are growing and need to increase our staff.

We have immediate openings in our Smyrna Tennessee office.
Why are we a great place to work?
* No nights! No weekends! Paid every Friday!
* Start at 7:45AM daily, off 4-6PM typically
* Paid mileage, holidays, vacation
* Paid training & travel time
* Up to $12.00/hour starting pay depending on your experience.
* No mental stress…we work in unsupervised teams of two.
* Career opportunities available! 100% of our promotions are from within & we are growing!
Qualified applicants will:
* Pass our background checks.
* Take pride in their work.
* Have a car, license, and proof of insurance (you drive 1/3-1/2 the time).
* Have previous job stability (at least one 1+ year job).
* Have previous cleaning experience or be coming from a retail environment with the knowledge that this job is like a physical fitness program! Our work is physical and is not for everyone.
* Be reliable, detail-oriented, and friendly.
* Be a positive person. "Debbie Downers" need not apply! We want you to like working for The Cleaning Authority!
If you have experience as a maid, housecleaner, housekeeper, housekeeping, cleaner, cleaning, janitor, or janitorial, then this may be the job for you.
If you've been working in the food service industry as a bar tender, waitress, server, hostess, cook, chef or cashier, and are looking for a normal schedule, then this may the job for you.
If you've been working in the Health Care Industry as a Certified Nurse Assistant (CNA), and you're not receiving the hours you need, or not happy with the inconsistent schedule, then this may be the job for you.
If you've been working in the Manufacturing or Warehouse industry as an assembler, picker, packer, sorter, and not happy with working second shift or third shift, or feel that there is no opportunity for advancement, then this may be the job for you.
21A South Lowry St., Smyrna, TN 37167 (In the historic district, across the street from Tire World and next door to the Donut Palace)
www.thecleaningauthority.com/smyrna


*** IF YOU WORK FOR A COMPETITOR, bring us your current pay stub and we will almost certainly increase your pay substantially! ***

Tags: Smyrna, Murfreesboro, Rutherford County, house cleaning, housecleaning, hotel, janitorial, janitor, commercial cleaner, commercial cleaning, cleaning, clean, cleaner, maid, cleaners, house keeper, housekeeper, housekeeping, house keeping, housekeepers, part time, part-time, full time, full-time, CNA, home health aide, HHA, cook, cashier, janitor, molly maid, merry maid, maidpro, better life maids.